GREAT SAUCES!



Eating Well
is the
Best Revenge!




Fine Sauces for Your Dining: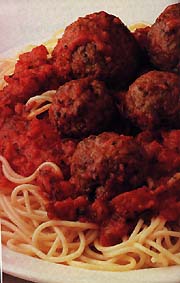 Sauces are what crown a dish, the touches by chef or diner that define a dish's character, from the ketchup on a pile of fried potatoes to the delicate Bearnaise on a plate of steamed fresh asparagus. In the choosing and proper use and preparation of sauces, the full artistry of the chef and designer comes forth into play, for sauces not only add flavor, but also color, artistry and flair to a dish. A good sauce can hide a myriad of sins, and an excellent sauce can make a good dish sublime. As in all cooking, learn to do the classical sauces well, then experiment gently to see what your personal likes are. I wish you luck. Here are very good recipes for traditional classic sauces, a couple with my own twists.
On a personal level, in addition to my career as a chef I am a silversmith in the Southwestern tradition. If you like nice sterling silver work with Turquoise, Lapis Lazuli and such, please visit my jewelry website by Clicking Here. Return here by using your computer's "Back" button.
Bookmark this site or add it to your favorites list now. Come back often to see what's cooking. I would appreciate feedback, especially as to anything you may find confusing or hard to understand in the recipes. Keep in touch, and...


KEEP ON COOKIN'!





Click Below for More Recipes & Recommendations by Bruce Moffitt:
Great Recipes Home
Seafood Recipes
Entrees Plus
Holiday Recipes
Great Sauces
Unusual Salads
Survival and Needed Recipes
Wonderful Desserts
Favorite Mexican Foods
Kitchen Safety, Please Read



If you like handmade Sterling Silver jewelry in the
Southwestern style,
click here to visit www.Bruce-Moffitt-Jewelry.com.