SALADS!



Eating Well is the Best Revenge!




The Wonderful World of Salads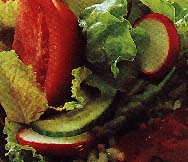 Salads are wonderful, with their crisp and crunch. Not only are salads good for you, but they are beautiful when done with love, and they provide lightness and sparkle to a meal. They are also a mainstay of the dieters repertoire, providing lots of bulk and good flavors with very few calories. A salad can be as simple as a few torn-up lettuce leaves with a sprinkle of oil and vinegar, or serious productions with everything from lettuce to anchovies, pastas, cold meats, odd cheeses and fantastic dressings. We hope you enjoy this sampling of the wonderful world of salads.


Bookmark this site or add it to your favorites list now. Come back often to see what's cooking. I would appreciate feedback, especially as to anything you may find confusing or hard to understand in the recipes. Keep in touch, and...


KEEP ON COOKIN'!