.
SALSA FRESCA!



Eating Well
is the
Best Revenge!









Fresh Chile Salsa


"Salsa Frescas" are the quick chopped up fresh sauces or relishes that are found everywhere in the Latino cuisines. Almost always they will have some chile in them, and the chiles can range from warm and friendly to the stellar fires of things like the Habanero, the Datil, and even the almost mythical wild Chiltepine of the mountains of Sonora.
This is a classic recipe, very Mexican, and very, very good. Make it just before you want to use it, because the cilantro loses its flavor very quickly, and the chiles are best when fresh. Any that is left over the next day though will be good if added to a cooked sauce, a soup or even a quick chile and cheese omelet. For the chiles in this recipe, probably the best are fresh habaneros, serranos, or jalapenos, but any hot, crisp green chile or a fresh red and ripe variety might also be excellent. Feel free to experiment with whatever you might consider interesting, there are some wonderous chiles about. Naturally, all the quantities given here are approximate.
To make the Salsa, put in a glass bowl:

1/2 cup, more or less, chopped chiles.
2 Tbl chopped onion
1 to 3 cloves garlic, minced
3/4 cup fresh cilantro leaves, coarse chopped
1/4 cup, or a bit more, good vinegar
pinch of dry leaf oregano
1/2 tsp salt
some chopped tomato or tomatillo is optional

Mix it all together, and let it sit for a few minutes to mellow out just a bit. Use as a dip with tortilla chips or you can add this salsa fresca to about anything that can use a bit of good chile "perking up", from a pizza, to beans and tortillas.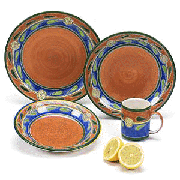 Click here for a printable version of this page