.
MENUDO!



Eating Well
is the
Best Revenge!







MENUDO

Menudo is a particular specialty of the central coastal area of Sonora, Mexico. Sonora is the most Northwestern state of mainland Mexico. It shares the border with the US, most notably south of Tucson at Nogales, and is one of the wildest places on earth.
During the Mexican civil wars the people of Sonora killed their cattle, dried the meat to jerky, and sent it off to the soldiers. The people in Sonora lived on what was left, and as the people of the land often tend to do, they made a regional masterpiece of part of it, Menudo, which is the stomach, also known as tripe. One of the world's grand dishes is the French Tripe a' la Mode de Caienne, which is tripe cooked slowly with onions, Calvados and spices. It is rich, warming and succulent. The French dish is good, but Sonoran Menudo is much, much better.
Menudo is cooked best by the little old ladies and their daughters who pull picnic tables out into the dirt streets in front of their houses in dusty little working towns. Under the light of a gas lantern, they feed the local workmen a great bowl of Menudo and a pile of tortillas for a few pesos. The competition between these good ladies is fierce, and that keeps the Menudo good. I had the great pleasure to come in out of the mountains around there for many a fine bowl of Menudo, and the little old ladies were good enough to teach me how to cook it for myself when I was not in Sonora.
The secret to menudo is that the three parts, the tripe, the corn and the chile are cooked separately, and only mixed and cooked together just before serving. This keeps the flavors clean and separate, and the textures distinct. The following menudo recipe is enough for a fair few people. Since it keeps the best, and takes the longest, start out with the tripe, or menudo.
El Menudo
Take three pounds of tripe, (menudo), wash it off well, trim out most of the fat, cut it into one inch squares. Drop into a pot of boiling water, simmer a few minutes and drain. Put back into pot, and add one calf foot, or two pigs feet, cut up a bit. Cover well with water, and add:

½ head garlic, whacked
several small hot red chiles
2 onions, sliced
3-4 bay leaves
1 tsp salt
tsp black peppercorns, broken
2 Tbl dry leaf oregano
2 tsp cuminos seed, crushed

Put this on a very slow fire for several hours until very tender. Drain, saving liquid. Wash tripe. Remove bones from feet, or can leave feet whole until served. Return feet and tripe to liquid, cool and reserve. Refrigerated, this keeps well, and freezes fairly well.
El Posole
While the menudo is simmering, cook the posole. This is the corn part, the Nixtamal, the magic. For the best, you started a couple days before with a good, native white corn. You soaked it in lime water, rubbed the skins off and washed it well, and it is ready to work with. This is a lot of work.
Frozen posole corn is also good, and canned posole/ hominy corn also will do. For this much of a recipe, you want several handfuls of dry white corn to start with, or a kilo (2 lb) package of frozen posole corn, or a gallon can of posole/ hominy corn. Drain the corn and wash well. Cover with water. Bring to simmer and add a half head of garlic, whacked up a bit. Simmer gently till tender. Drain, and if you are not going to finish the Menudo immediately, cool the corn quickly and refrigerate it. Warm posole corn by itself ferments quickly, and should be kept either very hot or very cold until cooked in with the menudo. It will keep 3-4 days in the refrigerator, but freezes poorly.
El Chile
Take one half pound of whole dry red large chiles. (The Mexican chiles are good, but the ones from Northern New Mexico, particularly from around Chimayo, are the best in the world. For this reason, the Menudo done here in the central part of New Mexico, using the Sonora recipe, is the best there is.) Put the whole dry chiles on a hot dry grill or frying pan and toss around a bit until just barely beginning to color. Be careful, they scorch easily. Remove, let cool, remove stems and most of the seeds. Cover with boiling water and let steep 15-20 minutes. Run through a food mill or a food processor, discard skins.
To chile pulp add:

2 clove garlic, minced
pinch cumin seed
Tbl vinegar
tsp oregano
pinch of salt
tsp sugar

Simmer up gently for a few minutes. Cool and refrigerate. If you have any chile eaters around, this will be nowhere near enough chile for the amount of menudo made above, but will give you the idea. This is the basic Mexican Red Chile sauce, and is good with everything.
The Finish
Now you have all the parts together. To finish the Menudo, take a nice heavy dutch oven or saucepan, and add:

4 Cups Menudo tripe and liquid, divide it out evenly.
3 Cups drained Posole Corn
1 to 2 Cups Red Chile Sauce
Enough water, stock or even a bit of beer if needed to make a fair bit of juice.

These proportions are, of course, strictly to taste. Bring all gently to simmer, while adding:

2 cloves garlic, fine chop
1 Tbl vinegar
1 Tbl leaf oregano
1 tsp cumin seed
grind of black pepper
dash of salt

Simmer for a few minutes. Serve with hot tortillas, and a small plate with a pile of dry oregano, some lime slices, piles of chopped cilantro, chopped onion, salt and some hot chiles.
Menudo has been called "Breakfast of Champions", and there is no better cure for a hangover.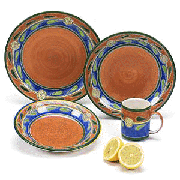 Click here for a printable version of this page